IMG KnowledgeBase & Frequently Asked Questions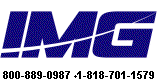 ---
Search FAQ's


Searching for ID: PU2215120827
PU2215120827
Problem with SingleClicker feature for drags, double-click, etc. in SmartClick 1.60 for Windows 7 / Windows Vista
There is an update to the SmartClick executable which introduces a delay during the SingleClicker operation that resolves this issue. Download and update SmartClick.exe from zip:

Download SmartClick exe update as smartclick_exe_160_2015aug18.zip (771KB) (MD5: A7A05FBD5672B4F106F0FC8F92F4505A)

As Administrator, with SmartClick closed (not running), you will want to unzip (right-click | Extract All), and copy all the exe files to \Program Files\SmartClick (or \Program Files (x86)\SmartClick) (this will overwrite the existing SmartClick.exe and add a few others). Once updated, SmartClick can be run as normal.

Notes: This update introduces a delay for the interface between real clicks (SingleClicker) and virtual clicks from SmartClick - drag, double-click, etc. For best results, the single click should be a "click" - as in a quick press/release. There may be an issue when working with Title bars, e.g. dragging a window by the title bar - a second single click may be required to correctly drag the window.

The additional exes (SmartClick.requireAdministrator.exe, etc.) can be used if User Account Control is enabled, and there are issues interfacing with certain windows. For users that do normal things, this should not be necessary - the User Interface Privilege Isolation issues would typically only affect system administrators or users that use system tools. If necessary, the SmartClick.highestAvailable.exe or SmartClick.requireAdministrator.exe can be copied to SmartClick.exe - by default, SmartClick.exe is SmartClick.asInvoker.exe).

This update is only for SmartClick 1.60.
| | | | |
| --- | --- | --- | --- |
| Category: Using | Type: Problem/Resolution | Product: SmartClick | Version: 1.60 |
---
Notes:
Depending on product, release version, OS version, and specific technical issue, some tech items are very specific, and some may span to other products/versions
Downloadable files can also be accessed by anonymous FTP at ftp://downloads.imgpresents.com
Older files are moved into a separate archive location - see notes/details/new location in *.archived.txt text file
---
---