IMG KnowledgeBase & Frequently Asked Questions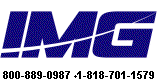 ---
Search FAQ's


Searching for ID: IU0113120713
IU0113120713
Want to verify Mouse/Trackball/Pointing Device operation
Download and run the IMG Mouse Test Utility. This utility will allow you to visibly see your mouse actions to verify your mouse when held down does not generate any other mouse events.

Download IMG Mouse Test Utility img_mouse_test.exe 11/1/2013 (56KB) (MD5: B725228E97C88840A37410186C5805CE)

Basic Operation


Download and note location (or save to Desktop)
Run img_mouse_test.exe
Work with your mouse device while img_mouse_test active - it will echo LB (Left Button) and RB (Right Button) down/up/double-click events. Hold your mouse button down - no other events should occur. Verify each action matches physical mouse events.
| | | |
| --- | --- | --- |
| Category: Using | Type: Information | Product: General Issue |
---
Notes:
Depending on product, release version, OS version, and specific technical issue, some tech items are very specific, and some may span to other products/versions
Downloadable files can also be accessed by anonymous FTP at ftp://downloads.imgpresents.com
Older files are moved into a separate archive location - see notes/details/new location in *.archived.txt text file
---
---